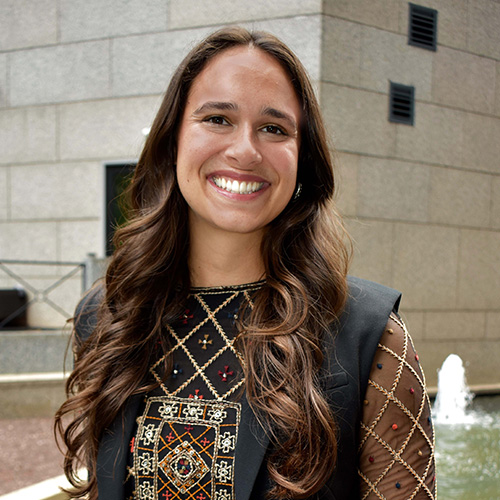 Amanda McDowell
Amanda Kaster McDowell is a passionate and dedicated professional who has called Philadelphia home for ten years.
A 2011 Public Relations and Communications graduate of Temple University, Amanda's appetite for connecting communities by creating free, large-scale events emerged from her internship opportunities with the former Greater Philadelphia Tourism and Marketing Corporation (now Visit Philadelphia) and the City of Philadelphia's July 4th celebration Welcome America, Inc. Prior to graduation, Amanda was fortunate to accept a full-time position as the Associate
Director of Welcome America, Inc., making her the only year-round employee of the organization. As the only full-time employee, Amanda was able to learn and coordinate the many evolving parts of producing Philadelphia's largest annual free festival. Over her 10+ year tenure with the organization, Amanda has helped transform Wawa Welcome America into what it is today. She has served under the leadership and direction of two mayors and has carved her path to now oversee the organization's fundraising as the Vice President of Sponsorship and Community Impact.
Amanda thrives in fast-paced working environments and remains calm under pressure when faced with the dynamic demands of the live events industry. She leads a smile and positive attitude to help drive and motivate her team and her peers.
Outside of work, Amanda enjoys spending time traveling and exploring with her husband Chris and her dog Otis. Music and art have always been at the center of her life. She can also often be found exploring pop-up markets and garden centers to continue to add to her growing family of houseplants.
The cornerstones of Amanda's work ethic are effective collaboration and engagement. Above all, she believes success is best achieved when it's achieved together.